Wednesday, Dec. 12th, 2012
Fort Massey United Church
5303 Tobin Street, Halifax (at Tobin and Queen)
8:00 pm  15/10
Tickets available at the door.
Doors open 7:00 pm
Info: 902-233-5585

Slow music for a fast time of year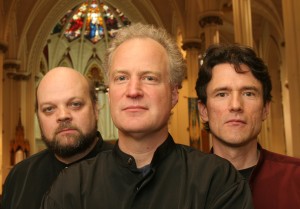 Find Sanctuary at the "end of the world" 12/12/12!!!!
Join us as we delve into the positive power of this auspicious date in this special season – in an atmosphere of depth, reflection, lyricism and the celebration of intense beauty.
The Christmas season is often the busiest time of year. Preparations can often be so intense that we sometimes miss out on the chance to "step away" and find time for deep reflection. Sanctuary's annual "Concert of 100 Candles" celebrates reflective music. Music that boldly shifts down into the heart of space, openness, and contemplation and for a little over an hour, gives you a chance to go slow in a fast time.
Please feel free to lie back, relax and let the sounds wash over you!
This year, you can expect a full selection of annual Christmas favourites, although some of them will be in a slow form that you haven't heard before. You will also hear a collection of new works the trio has prepared especially for this Christmas season.
In a time where the musical world has become saturated with unoriginal imitations, Sanctuary's work is more than just a breath of fresh air. In terms of both concept and execution it is almost entirely unprecedented.