Release Date: September 22, 2017
Title: To Dream of Silence
Label: Independent/Sanctuary Concerts
Format: CD/DIGITAL
Artist: Jeff Reilly
Produced by: Jeff Reilly and Rod Sneddon
Available now on Bandcamp!  jeffreilly.bandcamp.com
and on all download and streaming sites (Itunes, Spotify etc.. ) 
To Dream of Silence is the latest CD release by Jeff Reilly that chronicles a series of powerful dreams experienced between 2008 and 2012. It also includes a world premiere recording of Christos Hatzis' Extreme Unction, for bass clarinet and string orchestra and a re-mix by the great  Joshua Van Tassle.
Here's a beautiful 2 minute video we made about this project:
I've always been a dreamer. I've always had powerful dreams.  Many of these dreams have changed my life.
To Dream of Silence is a story of personal transformation as told through dreams. It is a meditation on the human psyche, and the challenges our souls face in times of change. It is dark, richly textured and full of heart.  It chronicles a period between 2008 and 2012 where I had some truly significant dreams.  Some were harrowing and intense, others astoundingly beautiful, all were deeply transformative.
Seeing that for the past 30 years I have been a musician, producer, performer and composer in the world of contemporary classical music and jazz, it seemed time to gather up all that experience and put it into bringing these dreams to life through music and narration.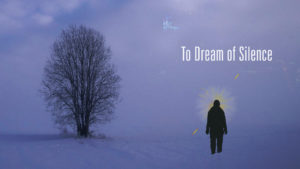 I realized through making this album that the real engine of transformation is the heart. The heart is an image that keeps coming back throughout the entire project, the heart of the machinery of a vast basement, the pounding heart of recovery from terror, a bursting heart upon witnessing indescribable beauty, a heart in the final moments of life, and the rich heart of our home.
To Dream of Silence occupies a unique sound world. Jeff Reilly's bass clarinet combines with the pipe organ of long-time collaborator Peter-Anthony Togni, the extended percussion of Jerry Granelli, two full string orchestras, and sound sculptures created in the tiny village of East Dover, Nova Scotia by the blacksmith John Little. Rinde Eckert adds a great deal with his sparse and powerful narrations.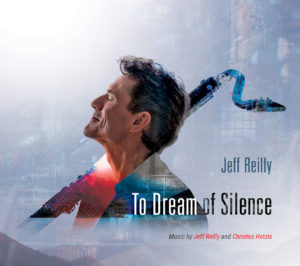 One of the most powerful moments on this disc is the piece Extreme Unction by Christos Hatzis performed on this album by the Thirteen Strings Chamber Orchestra conducted by Kevin Mallon. It is a powerful depiction of both the struggles against, and the final acceptance of the inevitability of death. It seems a very fitting way to complete a series of pieces about psychological and spiritual transitions. Death, as this brilliant work by Christos shows us, is the ultimate transition.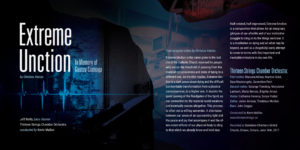 To Dream of Silence: Music by Jeff Reilly and Christos Hatzis
To Dream of Silence 2:36
Eighty Steps 5:44
Your Dark Beauty 6:05
Endless Chambers 7:20
Food for a Soul 4:00
Fishing 5:56
Extreme Unction 11:45
Eighty Steps re-mix 5:58   Re-mix by Joshua Van Tassle
All works by Jeff Reilly except track 7 by Christos Hatzis
Jeff Reilly – bass clarinet
Rinde Eckert – narration
Peter-Anthony Togni – pipe organ
Jerry Granelli – percussion
The Sanctuary String Orchestra conducted by Jeff Reilly
Thirteen Strings Chamber Orchestra conducted by Kevin Mallon
Mattieu Keijser – percussion
Joshua Van Tassel – percussion and re-mix
The Blue Engine String Quartet
Christoph Both – cello
Featuring the sound sculptures of John Little
Produced by Jeff Reilly and Rod Sneddon
Engineered and mixed by Rod Sneddon
Digital Editor: Jeff Reilly
Recorded in Nova Scotia, Canada between 2000 and 2016 at First Baptist Church in Amherst, St Mary's Basilica in Halifax, Eglise St Bernard in Church Point, Rod Sneddon's living room in Halifax, John Little's Blacksmith Foundry in East Dover, and the Dunn Theatre in Halifax.
Mastered by Simon Heyworth, Super Audio Mastering, Chagford, Devon, UK
CD Design: Jody Burry, Fogo Creative
For more information on the sound sculptures of John Little please visit www.johnlittleironwork.com
Special thanks to the Canada Council for the Arts and FACTOR for funding this recording. Thanks also to Arts Nova Scotia for funding the creation of To Dream of Silence and the Ontario Arts Council for funding the creation of Extreme Unction.